The ripcord has been pulled by Blizzard. Massive changes on the horizon to both retail and Classic. Things are looking up after a summer of looking down. Let's break down the big news.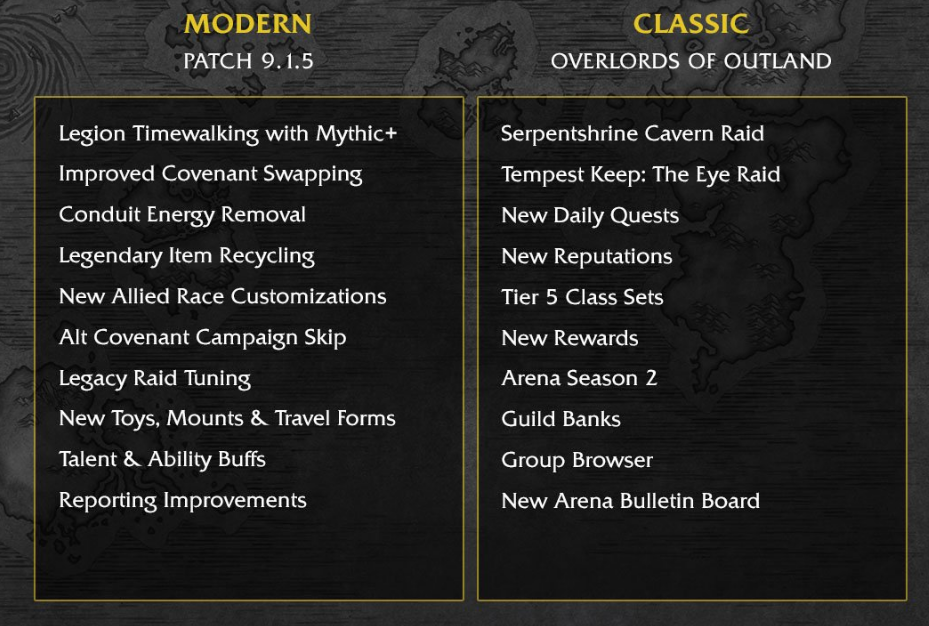 Blizzard addressed the community about World of Warcraft with
this post
. In it they say "The WoW team has been focused on the immediate future. Shadowlands Update 9.1.5 will be going on the PTR next week, and a lot of what you'll find in it is the direct result of your collective feedback. It also has updates to improve the game environment for our community, including additional changes to some content to better reflect our shared values, better visibility into the impact of your in-game reports of harassment, and more serious penalties for people engaged in disruptive behavior. Classic players who've told us they'd like a chance at a fresh start, and will be sharing more on our plans soon"
There is a lot to unpack there. Above also are all the changes coming to 9.1.5 and Classic WoW. Here's a small breakdown of some of these changes.
Retail
Improved Covenant Swapping
Once you've reached a high Renown threshold, you will thereafter be able to freely switch among any of the four Covenants without cooldown or restriction, as well as use cosmetic rewards that you have earned from one covenant even if you are currently a member of a different one. Both the Covenant switching and the use of cosmetic rewards will also apply to alts once the Renown threshold is reached on one character.
Alt leveling improvements and covenant campaign skip
A variety of improvements will be introduced in support of a smoother experience leveling alternate characters through Shadowlands, such as an additional rank of Heirloom upgrades, and improvements to Threads of Fate such as the addition of Torghast as an option and Renown gains for completing bonus objectives.
Classic
Phase 2 of Burning Crusade Classic will be going live on September 15, 2021.
The following week (September 7 in this region), we'll end Arena Season 1 with the regional reset. This will begin a one-week offseason, and the adjustments to Season 1 Arena and Honor gear costs will go into effect.

Burning Crusade Classic Arena Season 2 will begin with the regional reset on September 14 in this region.

That same week, the Phase 2 content unlock will occur at the same moment in all regions worldwide: Wednesday, September 15 at 3:00 p.m. PDT (6:00 p.m. EDT). This is the time that the Sha'tari Skyguard and Ogri'la content will become available, and Serpentshrine Cavern and Tempest Keep will open for business.

Finally, Season 1 awards will go out with the regional reset the following week (September 21 in this region).
Classic Fresh
There are no specifics on Classic Fresh but there are speculations and a PTR for it already. Once the PTR came out people basically knew it was coming it was just a matter of time Blizzard made an announcement. Now that it is official there is a lot to talk about here because there's so many questions. What changes will there be? Will this impact TBC population? Classic Plus? We can go on forever. But right now they seem to be giving us the standard "we're excited about the changes and well be transparent". Hopefully we get details soon!