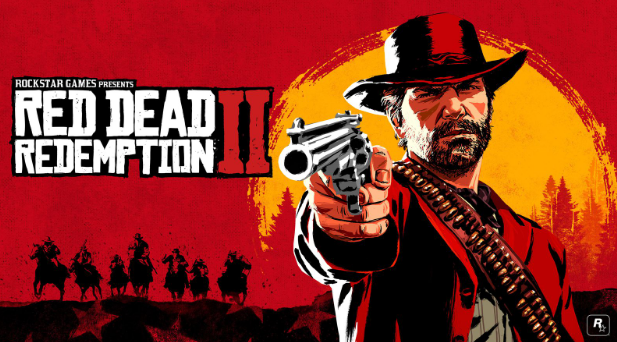 America, 1899. The end of the Wild West era has begun. After a robbery goes badly wrong in the western town of Blackwater, Arthur Morgan and the Van der Linde gang are forced to flee. With federal agents and the best bounty hunters in the nation massing on their heels, the gang must rob, steal and fight their way across the rugged heartland of America in order to survive. As deepening internal divisions threaten to tear the gang apart, Arthur must make a choice between his own ideals and loyalty to the gang who raised him.
-
Rockstar
How is that for a storyline?
October 26th, about five weeks from today, Rockstar Games will release Red Dead Redemption II, the second game of the Red Dead Redemption series. Rockstar is well-known for its Grand Theft Auto series, and RDR2 is just a western version of that. Some argue the game is even better.
You will be able to purchase RDR2 on PlayStation 4 and XBox One, with the PC release to be determined. If you
pre-ordered
, you will have access to a plethora of bonuses (per the Rockstar website)
-
War Horse
: This handsome iron-grey-colored Ardennes War Horse can always be relied on in the heat of the battle. With greater courage and stamina than the average steed, this is a horse that knows how to keep its head under fire.
-
The Outlaw Survival Kit
: The Outlaw Survival Kit contains a collection of key supplies for enduring the rigors of life on the frontier, including items to replenish Health, Dead Eye and more.
In addition, digital pre-order customers will receive the following:
-
Cash Bonus for Red Dead Redemption 2 Story Mode
: The Van der Linde gang is always looking for ways to make more money and bring in new supplies. This in-game cash bonus will give Arthur Morgan enough to buy a weapon, some food, a handful of useful items and ammunition.
-
Treasure Map
: Secret buried treasure can be found throughout the world of Red Dead Redemption 2. This exclusive Treasure Map for Story Mode will give Arthur a head start on the hunt for hidden riches.
Check out the
pre-order link
for more information on RDR2: Special Edition which has more to offer.
The Game
OC's own
Kenneth
described it best:
If you have never played Red Dead Redemption before, the best way for me to describe it is like a Grand Theft Auto open-world style game set in the old wild west. Like GTA, Red Dead is made by Rockstar Games. What we know so far is that the main character is Arthur Morgan, a cowboy that has angered groups across the Wild West. These groups will be the focal point of the plot. If you played the original Red Dead, something you should know is that this game is set before the original, chronologically speaking. If you want to get lost in a world of cowboys and the wild west while riding your horse around one of the best-designed worlds on the market, this game is a must-buy.

The only potential letdown for RDR2 is that it is not coming out for PC right away, which you could also say is another way it relates to GTA.
Trailers
Gameplay
From
Kenneth
:
This six-minute masterpiece goes into detail about the all the refreshing tasks you can do in the game, such as:

- Piling your belongings onto a horse.
- Relaxing activities like fishing.
- Sitting around a fire conversing
- Carrying in products of a hunt

Not only did Rockstar show us some of what you can do, but they gave us a little bit of detail on the character you play, the people he hangs out with, and what he is all about.

Turns out you're in a gang that is constantly running from the pressures of civilized life. You can talk yourself in and out of trouble, gamble, trade goods such as pelts, and so much more. At the end, the narrator says there will be another gameplay video coming out in the future where they discuss missions, activities, enemy gangs, robberies, and the deadeye system.
What we look forward to most is the shooting, combat, and more all look to be refined...making for a terrific game.
New Features
- Like GTA V, you can play in first person without a HUD if you want a full-immersive experience.
- You can swim! In the original, you could not so this is a big change.
- You can take selfies with an old-school camera. Speculation, but maybe we'll be able to share them on Rockstar social media like GTA?!
-
Online
will be released separately and later, like GTA
- Per GameSpot, there is also Horse Drifting and Gun Customization!
Red Dead Redemption II will be available Friday, October 26th. Online will be available a month later, per Rockstar.
Are you excited for this game? I know I am.